BASIC INFORMATION
Wrestling Name: Kenny Drake
Picture Base: Marty Scurll
Current Nicknames: The Wolf, The Shepherd, The American Libertine, The Bad Seed, Le Loup Noir, El Guerra Lobo, Omega Wolf, The American Outlaw, Electric Messiah, He, Father Drake, Ulvens Konge
Height: 6'
Weight: 200
Hometown: Portland, By God, Oregon
Now Residing: "Heaven's Den" - The Drake Family Ranch - Pendleton, Oregon
CHARACTER INFORMATION
Disposition/Alignment: Choose from these options: Ruthless Heel
Gimmick: A complete prick. Evil. Leader of WOLVESDEN. 
RINGSIDE INFORMATION
Theme Music: 'Personal Jesus' by Depeche Mode
Special Entrance: "REACH OUT AND TOUCH FAITH" followed by "Red Right Hand" by Nick Cave and the Bad Seeds. Kenny will usually wear some form of themed outfit. 

MOTIVATIONS
What are your character's motivations for competing?: Power, Gold, Respect, Power. Power over all.
Tendency to Cheat: Whenever needed.
IN-RING INFORMATION
Wrestling Debut [Optional]: 2002
Favorite Match Types: He's gotten pretty fuckin' good at Deathmatches 
Least Favorite Match Types: Casket. No. No.
Favorite Weapon: Cane
In-Ring Achievements: 
OWA Bloodline Tag Team Champion (w/ Nate Cage) (Inaugural) - 1x 
Common Moves: Minimum ten (10)
1. Suplex (Snap/Dragon/German/Half and Half/Tiger, all of 'em)
2. Bullrope - STIIIIIIFFFFFFFF Lariat
3. Malenko - Dragon screw into a Texas Cloverleaf
4. Muay Thai strikes
5. Neckbreaker
6. STIFF knife edge chop (Like WALTER style...shockingly strong chop for a guy Kenny's size.)
7. Superkick
8. Assorted Catch wrestling moves (Brit wrestling)
9. Piledriver
10. European Uppercut
11. Slap
(Bitch, Pimp, etc.)
12. Snap Headbutt
Signature Moves: 
1. Pendleton Roundup - Kenny whips the opp. hard into the corner, and when they stumble out, Kenny hits a running Tornado Lariat.
2. Lovecraftian Nightmare - Muta lock
3. Repent! - Superkick to the knee to make em kneel, hard slap to the face to drop em, and a double stomp to keep em there.
4. Luca Brasi  - Crossface Chickenwing
5. Rattlesnake - Pop Up Stunner
6. The Mercy Seat - Cartwheel Death Valley Driver/Penalty Kick combo
7. Killibuster - Triple Rolling Brainbusters
8. Sacrificial Lamb - Guillotine Choke (Kenny sometimes transitions from the Killibuster into this)
9. Willamette River Strangler - Step-up Triangle Choke
10.
Horrible Person
 - Eye poke, foot stomp, headbutt, Rolling Elbow combo
11. Now It's Three! - Finger snap, dedicated to Chet Kensington 
12. Wolvesblood - Red/green/Black mist 
13. In The King's Court - Kenny gets the victim to one or both knees, before pulling one of their arms and then pressing his foot to their face. He stomps his foot, spiking the back of the victim's head to the canvas. (Thank you, Gareth!)
Finishing Moves: Maximum three (3) and one (1) optional ultra-finisher (UF)
1. Killing Joke - Single Arm Lifting DDT (Finn Balor's 1916)
2. Shotgun - Suplex GTS
3. Cottonmouth - Ripcord Stunner
UF. God's Plan - Avalanche Killing Joke rolled through into a deadlift Shotgun.
NOTES
Wolves, Aeternum
+++++++++++++++++++++++++++++++++++++++++++++++++++++++
WANTED  CHARGES DROPPEDNIKI KHAN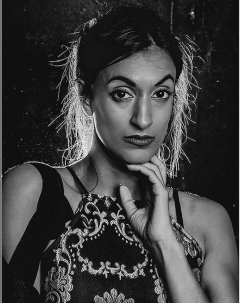 -Conspiracy against Queen and Country, Trespassing, SabotageVandalism, Attempted Arson, Extortion, Potential connection to London and Liverpool organized crime
AKA: The Razor, Mother, Guru Khan, Nikhashni Khan
Age: 32
Height: 5'1
Weight: 117
Place of Birth: Amritsar, India 
Occupation: Professional Wrestler/"Spiritual" Leader
Base of Operation: Mobile (Mainly around the Pacific Northwest of the United States; London, Liverpool, Birmingham, England; Pakistani/Indian border)
Hair: Black
Eyes: Brown
Complexion: Medium
Nationality: Indian
Citizenship: India, United Kingdom
CAUTION
Nikhashni "Niki" Khan, AKA Mother/Guru Khan, is highly manipulative and unstable.
-Has amassed a large following, commonly referred to as Wolvesden, through means of propaganda, guerilla advertising, cyber crime, and low-level anarchy. Wolvesden is frequently featured in professional wrestling promotions alongside Khan and Kenny Drake across the globe. Kenny Drake and Khan are currently signed to Omega Wrestling Alliance. 
DO NOT APPROACHDO NOT CONVERSEHIGHLY MANIPULATIVE/CHARISMATIC——————————————————-