As far as this, the REAL, version goes, I was peacefully vacationing in the African savannah and one day caught wind that my besties were in trouble! Unappreciative management! Lazy teammate! Oh dear, it broke my heart! So I pulled some strings and came as fast I could! Only waited for a great signing bonus, agreement that we could reign under Dollhouse rules(zoophilists call this "freebird"), and after I was done getting a new fur coat from the savannah. Plus, I was bored, and it was about time the J-Dynasty got involved with OWA, teaming up with my best friends and the trustable HiVe made perfect sense. So that's how the Dollhouse got its face lift, skin from porcelain to ivory!
Become the greatest tag team the world has ever seen! With beauty, talent, and style! As for me alone, it looks like Odyssey management has want of me, so I guess I'll be multi branded going after the Athena cup and Goddess championship too!
Someone needs to read up on our
Dreamhouse!
 in short, Roxy had it made so we have enough room for five people.
Personally, I like the rule of 3 stylistically. However, if there's those who can fit the motif of the Dollhouse and at the same time bring a unique touch to it like I feel I have, I'd have no complaints about new members. I just like to reaffirm the fact that a team is only as strong as its weakest member!
Just being with like minded friends is fun, so I'd be happy destroying any tag team alongside Roxy and/or DiVa!
My J-Dynasty contacts have heard lots about this "Stephanie Matsuda". I like famed and rare heads on my mantle, the rest of our label would be so jealous.
Jessica Rose, have you seen her annoying smile?  She's so adorable, in a hey this mess of an adult acts like a five year old kind of way, you just want to bully her and add a little starching to her life.  
Roni Osborn…just look at her! Shouldn't be allowed to exist in the Dollhouse's world!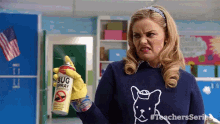 April Song, my intuition says that our souls have battled throughout the ages(I like to think I was an heiress and she a homeless cur I had to get ordered of my property in our first lives.). So it's kind of old compared to the never before seen on this list, but she was pestering me on OWA feed and doesn't appreciate fashion…so she might need to be silenced!