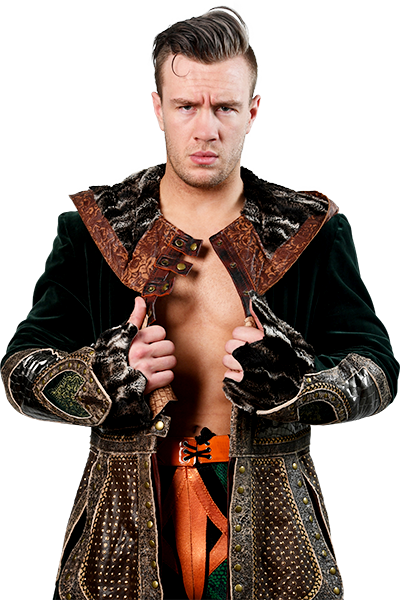 BASIC INFORMATION
Wrestling Name: Wil Pierce
Picture Base: Will Ospreay
Current Nicknames: The "Blackheart" 
Height: 6'0
Weight: 220 lbs.
Hometown: Hawkins, Indiana
CHARACTER INFORMATION
Disposition/Alignment: Anti-Hero/Tweener
Gimmick:   
The "Young Lion", a long time fan of professional wrestling who finally
decided to do something about it and has brought his passion into his new life..
He's still a bit of a smug asshole...
RINGSIDE INFORMATION
Theme Music: "Machi Bhasad" (Expect a Riot) by Bloodywood
Entrance:
MOTIVATIONS
What are your character's motivations for competing? 
It's a life long dream that he gets to do everyday, pure and simple.
Tendency to Cheat: As needed and depending on the situation.
IN-RING INFORMATION
Wrestling Debut: (for OWT)  
Favorite Match Types: Anything that allows him to fly
Least Favorite Match Types:  
Favorite Weapon:
In-Ring Achievements: 
Common Moves:
1. Palm strike
2. Lifting inverted DDT
3. Springboard forearm smash
4. Corkscrew falling stunner, as a reversal to a suplex
5. Pop-up into either a cutter or a sitout powerbomb
6. Multiple suplex variations;
-6a. German, sometimes from the top rope
-6b. Northern Lights
-6c. Snap
-6d. Tiger
7. Crossface chickenwing
8. Fujiwara armbar
9. Piledriver
10. Running bulldog
11. Twisting snap elbow drop
12. Multiple kick variations;
-12a. 540
-12b. "Headhunter" (720 to the back of the head of a rising opponent)
-12c. Drop
-12d. Handspring enzuigiri
-12e. Jumping corkscrew roundhouse
-12f. Roundhouse
-12g. "Lucifer's Hammer" (Superkick)
-12h. "Sparkstarter" (Detonation) 
13. Asai moonsault
14. Running dropkick through the ropes to an opponent on the outside
Signature Moves: 
1. "Rider Kick" (Diving front kick)
2. "Bandit Revolver" (High-impact roundhouse kick)
3. "Senton Atomico" (High-angle senton bomb, sometimes from a ladder)
4. "Mark of Caine" (Tilt-a-whirl headscissors takedown transitioned into a single arm DDT)
5. "Inazuma Suplex Special" (Vertical suplex followed by a brainbuster)
Finishing Moves: 
1. "Final Vent" (One-handed electric chair driver)
2. "Black Arrow" (Corkscrew shooting star press)
3. "Midnight Express" (Kneeling step-over head-hold wrist-lock followed by hooking the opponent's far leg)-Innovated
UF. 
The "Stormbreaker" (Superplex from the top rope transitioned into a Falcon's Arrow piledriver transitioned into a Ganso Bomb for the pin)
NOTES: